A ONE-STOP SHOP FOR ALL OF YOUR BRANDING NEEDS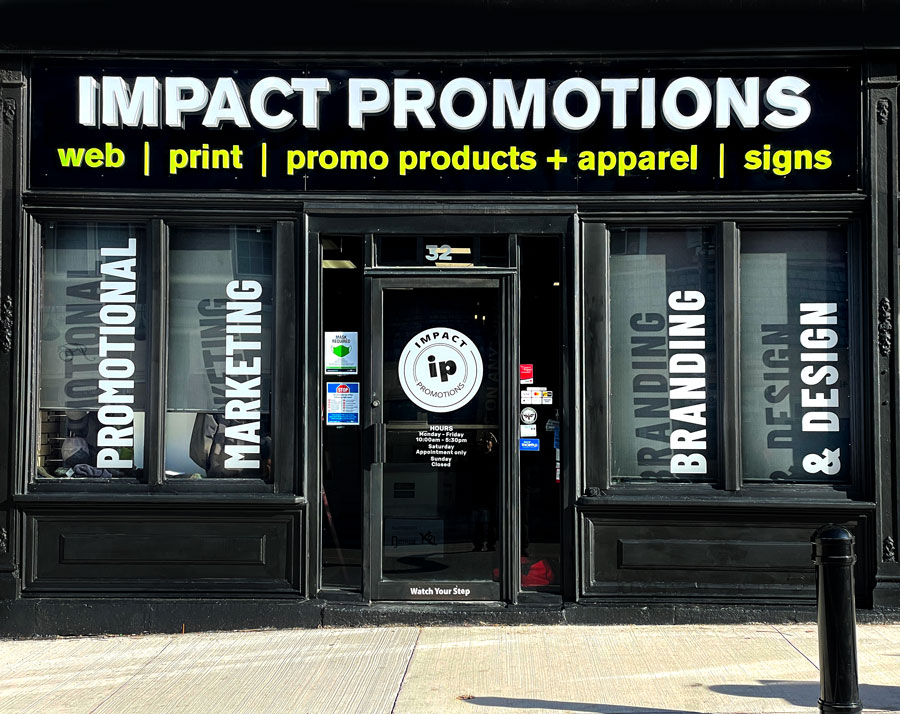 Impact Promotions, located at 32 Front St. S. in Thorold, Ontario celebrated 15 years of business in 2022. It has been our pleasure to serve clients from all over the Niagara Region and beyond.
We have provided marketing solutions to real estate professionals, small business owners, shops, pizza places and restaurants and the construction industry with return clientele due to our quick turnarounds and low pricing, not to mention excellent design.
We look forward to helping you achieve your business goals! From logo design to signage, we're here for you.
Why Us?
WE HELP BUSINESSES GROW THROUGH SUCCESSFUL MARKETING INITIATIVES. WE BELIEVE IN OUR CUSTOMERS POTENTIAL AND GENUINELY CARE.
WHAT WE DO
Impact Promotions is Niagara's one-stop-shop marketing solutions provider. Our simple approach, we listen, work closely with you to understand your vision and provide you with a suite of customized marketing solutions that make your vision a reality.
We offer logo design, graphics, business cards, brochures, catalogues, responsive websites, corporate apparel (embroidery, silk-screening and vinyl heat press), over 100,000 promotional products, signs of all kinds, business cheques, self-inking stamps, online marketing, and more.
Impact Promotions has proudly served the Niagara region and Southern Ontario for more than 12 years. Our unwavering focus on service, quick turnaround times, competitive prices and top-quality products have made us the trusted go-to partner for all of our customers' marketing needs.