ONE-STOP SHOP FOR ALL OF YOUR BRANDING NEEDS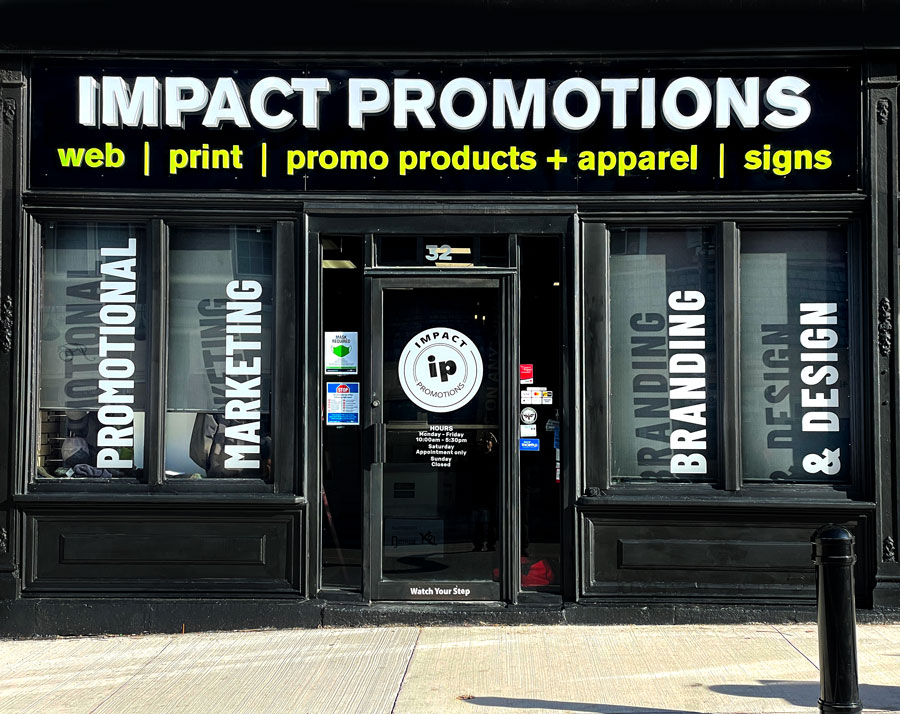 At Impact Promotions, we make your marketing experience effortless and enjoyable. No more impersonal 1-800 numbers or frustrating online searches. At Impact Promotions, we believe in the power of face-to-face consultations and building relationships in a great atmosphere. Step into our inviting showroom, take a moment to explore, and discover what's trending and hot this season. As you browse through our wide selection of apparel, promotional products, and innovative ideas, we invite you to savor a complimentary espresso or bottled water. Trying on items of your choice is made easy with our convenient change room, ensuring the perfect fit for your brand. Flip through our comprehensive catalogues featuring thousands of items, igniting your creativity and offering endless possibilities for your marketing needs.
Impact Promotions opens its doors from 10:00 am to 5:30 pm. We value your time and offer appointments for consultations, tailored to your schedule and preferences. We understand the importance of making a remarkable first impression, and our dedicated team is here to guide you every step of the way. With a commitment to excellence and a personalized approach, we strive to make your experience with Impact Promotions outstanding.
When you choose Impact Promotions, you're not just accessing high-quality products and services – you're entering a world where customer satisfaction is paramount. We pride ourselves on our friendly and knowledgeable staff, ready to assist you with expertise and creativity. Experience the difference of a local, customer-centric marketing shop that puts your needs first.
Join us at Impact Promotions and let us transform your marketing journey. Discover the possibilities, be inspired, and create a lasting impact. We look forward to welcoming you to our showroom, where your marketing success begins.
Our Showroom at 32 Front St. S. in Thorold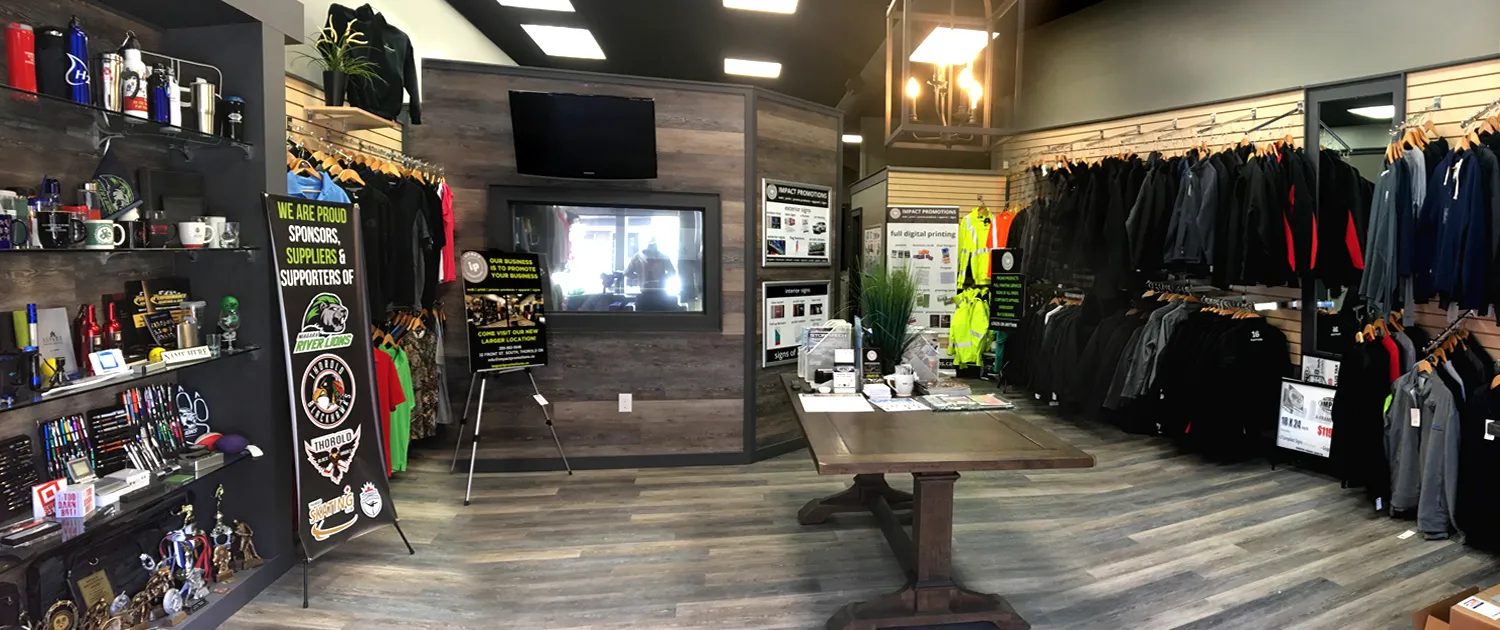 PAbout Impact Promotions – Niagara's Premier Branding Solutions Provider
Welcome to Impact Promotions, your dedicated partner for all your branding requirements in Niagara and Southern Ontario. With a reputation for quality, service, and customer focus, we have cemented our position as the region's leading one-stop-shop for unique branding solutions.
Who are IMPACT PROMOTIONS (the company)? 
Impact Promotions is a locally owned and operated business, located in the heart of Downtown Thorold. For over 15 years, we have been proudly serving the Niagara region and Southern Ontario. Our success is rooted in a straightforward approach that revolves around a key principle: we genuinely care about people. We are driven by a mission to foster and support the success of our clients by providing unparalleled branding services.
Our Commitment to Excellence
Our unwavering commitment to excellent service has positioned us as a trusted partner for a wide array of marketing and promotional needs. We pride ourselves on our quick turnaround times, competitive prices, and top-quality products. At Impact Promotions, we are not just a branding solutions provider; we are the catalyst to help businesses grow and make an impact.
Our Branding Solutions / Services – Corporate apparel and Promotional products
We offer a diverse range of services and products to suit your unique branding needs. From corporate apparel and promotional products to full-scale marketing strategies, we cater to businesses of all sizes and sectors. Our team of branding experts works tirelessly to deliver bespoke solutions that align with your business objectives and resonate with your target audience.
Why Choose Impact Promotions
By choosing Impact Promotions, you are partnering with a team of experienced professionals dedicated to your business success. We strive to provide superior customer service, ensuring that your experience with us is as enjoyable as it is rewarding. We invite you to discover the Impact Promotions difference – quality, service, and results that go beyond expectations.
Connect with Us Today
Let us help you make a lasting impact. Reach out to us today; give us a call! We look forward to collaborating with you to make your brand unforgettable.